Logos are like the swiss army knives of marketing. They can be your branding on almost any surface, scale to just about any size, and act as a memorable face for your brand. But if you don't know what you're doing you might just end up hurting yourself.
When it comes to branding your goal is to help people connect with your brand. A good logo will allow you to represent your brand in just about any format or medium so you don't miss an opportunity to connect with your audience.  While all logos are different and there are dozens of unique ways to do them, there are a few key elements that you can keep an eye out for in your logo. These will help it stick out and make sure it's not doing more harm than good. So when you are designing or using your logo try to keep in mind these three key traits.
Consistency
It's no secret that one of the key elements of branding is repetition. The more a person is exposed to a brand or an idea, the more likely they are to associate with or recall that brand in the future.
One of the key parts of repetition when marketing is making sure that you are being consistent with your branding. Now while this concept applies to a larger branding strategy we can dilute it down to just how you use your logo pretty effectively.
There should be at MOST about three versions of your logo that you consistently use across your branding. We'll go into a bit more detail of what those likely look like later on. But the primary goal here is to make sure you are using the same logo across your various marketing efforts. Or else you are going to have a harder time forming an association with an image for your brand.
Additionally, a good logo is dictated by the brand's overall image. It's crucial to make sure that your message is consistent for your audience.
For example, if you are an up and coming motorcycle shop called "Heavy Metal Biking Co.", you'll want to make sure that your logo represents that or is at least in key with your marketing strategy. There are some logo styles and colors that simply will not work with your brand.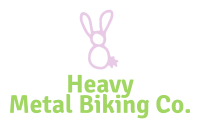 Looks a little off…
If you make sure that your logo is consistent with your overall brand image than you are one step closer to having a great representation of your brand. Make sure that you use the same 2 or 3 versions of your logo across your marketing too. Or else you are forcing your audience to reassociate with your brand.
Simplicity
Simplicity and minimalism are big components of great modern logo design. Making a logo that's simple will make it easier for your audience to remember. A good trick to make sure that your logo isn't over complicated is to give yourself about 20 seconds to try and sketch it out from memory. Then compare to your design and see how you did. While you may not get it looking exactly the same (you don't have to be an artist for this test) you should be able to pick up on the key elements/shape of the logo.
Take a look at how KFC's logo has evolved over time from a complex black and white sketch to a simplified colorful image.


This is a great example of a simplified logo that doesn't lose its flavor and overall character. Good modern logos are simple but not so simple that they aren't unique.
Another big benefit of a simple logo is that it will often scale better than a complex drawing or sketch. Ideally, your logo should fit on mediums from business cards all the way up to banners and roadside signs.  Making sure that your logo is simple will help ensure that its scalable for these different sizes.
Scalability
Now you may be thinking "There's no way I can make my logo fit every size! How do I shrink down my logo so it's still legible without losing detail?"
Here's a big secret about logos.
They usually come in multiple parts.
While there are several different styles of logos. Most logos can be broken down into three distinct parts: The Wordmark, the Icon, and the Full Lockup.
The Wordmark is usually just the name of the company while the icon would be just the graphics or image.
The Icon< is usually what most people think of when talking about logos.
A Full Lockup is both pieces brought together to make a final composition.
This makes a lot more sense when you begin to compare to real-world examples. If we look at successful companies logos we can identify these three pieces pretty easily.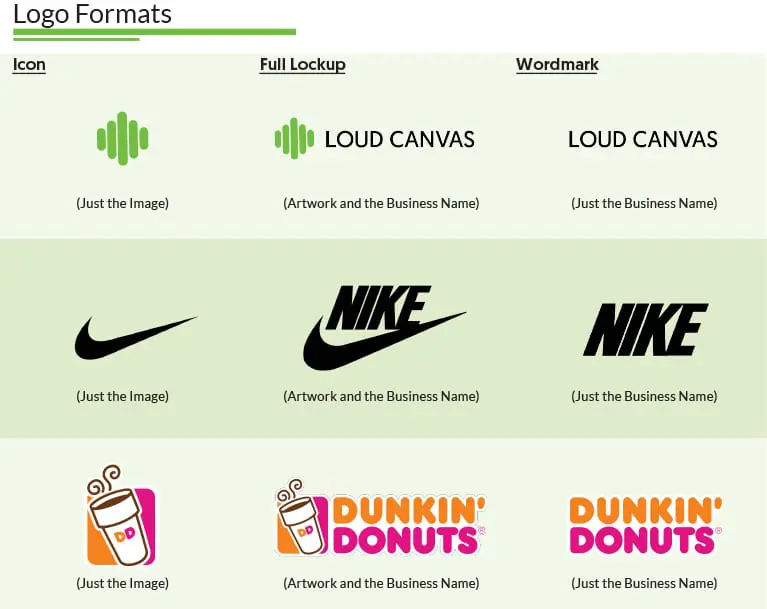 Having the ability to switch between different forms of your logo lets you be able to add your branding to anything. It's all about making sure that you are able to incorporate your branding into your campaign whether its banner or on a stamp.
There's a lot that goes into making the perfect logo for your brand. If you're still not sure if your logo is up to snuff or if you are looking for a new logo the creative team at Loud Canvas can help. We'll make sure that your logo is scalable and reflects your brand while implementing professional design techniques to give you a modern look.
Once you have your perfect logo in hand we'll give you everything you'll ever need to use it across your marketing campaigns including exports for web and print as well as source files.
Contact us today and we'll help with making your logo stand out from the rest!