Godaddy Hosting Fails Hard on Every Metric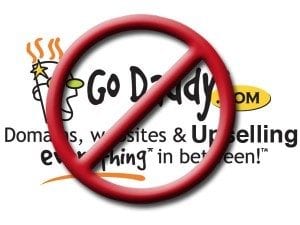 Disclaimer: Article contents derived and heavily influenced by multiple tech experts and web developers (linked below) who post of their own experiences. 
A testament to the power of "shock and awe advertising," GoDaddy has risen to become THE top of mind website / hosting company when someone starts looking to create a site. This may have a few million things to do with the number of Super Bowl commercials they have bought, and/or the use of sexy girls in car racing jackets (let's face it: sex sells!)
However, using a company because it employs the most flash isn't always the best idea; that's like choosing your car mechanic based on how many hot-pink wacky-wavy-inflatable-worm-guys gyrating outside their shop. In other words, flare and glitter doesn't equate to quality!
As you may or may not be surprised to learn, GoDaddy has the number one worst reputation in the industry. Its cheap prices and gimmicks such as a free domain name with $6/mo hosting may seem quite appealing; yet, as the saying goes: "you always get what you pay for."
But don't take our word for it (we are obviously biased). Instead read from the multiple independent sources — from Tech Experts, Developers, Normal Users and Consultants — we have linked to.
For each metric you want to use to evaluate a web hosting company, Godaddy falls flat and scores abysmally bad. This is why we mince no words and say unabashedly: GoDaddy web hosting sucks. Sorry for being crude, but it's the truth. Read below as to why:
The Areas GoDaddy Falls Down:
Godaddy Hosting seems to be the "Comcast of web hosting" – people use them (regrettably) and hate every second of it. Examples:
#godaddysucks 2 days of broken SSL certificates, multiple calls, no fixes. They say it's everyone on the server. @GoDaddy @GoDaddyHelp @godaddyhosting

— MentalIllnessPolicy (@MentalIllPolicy) January 22, 2018
Hate when my clients use godaddy for hosting or domain management because somehow, every time, at least one of their services is broken and wastes my time.

Cannot recommend avoiding them enough.

— Morgan Breden (@bredmor) March 7, 2018
#GoDaddySucks Email down since this morning, and no updates? Really @GoDaddy you are killing small businesses

— Lisa D'Antonio (@WyldKat2LD) September 25, 2017
1.31.18: @GoDaddy doesn't honor their customer agreements and their customer service sucks.#FAIL #GoDaddySUCKS #GoDaddy

— SusanMaxwellSchmidt (@RealiTeeChick) February 1, 2018
Funny how @GoDaddy didn't send me any customer satisfaction surveys after any of my recent 'support' requests. They only ask people when they think they're happy with support. "Award winning" at the GoDaddy awards! Garbage everywhere else. #godaddysucks

— Brandi Thompson (@awesomebrandi) December 28, 2017
Feeling really stupid about using @GoDaddy as hosting provider… #godaddysucks #godaddy pic.twitter.com/eQoh47c6JG

— Jakob Renpening (@JakobHans) November 27, 2017
On hold with #GoDaddy, phone call #5, to find out when they're going to repair my web site (they told me two days two weeks ago). Listening to music for just over 28 minutes. #GoDaddySucks

— bill bickel (@bill_bickel) January 21, 2018
---
Other Helpful Reading on this Topic