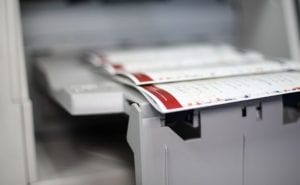 We're proud to partner and collaborate with Infinite Imaging in order to bring our clients the very best in optimizing their business and brand. While we work to make websites and digital marketing campaigns stand out, the messaging on business cards, signage, promotional materials, and more need to grab attention just the same – they too need to be 'loud'. All digital and traditional marketing facets work in unison, weaving the fabric of attention, generating leads through masterful branding and eye-catching awareness.
If we're looking for infinite possibilities of graphics and design for our clients, we go to the team at Infinite Imaging to assist us with the very best in business and commercial printing. They print everything and anything that a business may need, their work is top-notch, and they help make an idea into a reality – which in turn leads to harmonious, effective marketing!
Together with Infinite Imaging, we're working to make sure that your business and brand look it's absolute best. We consult with you, the client, diagnose needs, and determine the best course of action – and the best mediums – for your marketing and advertising to really gain attention and traction!
Learn more about our Branding and Print Services