Social Media Management
Social Media Management
Facebook, Twitter, Pinterest...
Let Us Build & Manage Your Social Presence
Starting a business and/or building a new website is hard enough. Then you have to think about the "social media" aspects that accompany it and all the work that requires. Creating a facebook page, building followers, posting quality content regularly, marketing yourself online, "friend-ing," "tweeting,"... It's enough to give you a headache thinking about!
Thankfully, LCM is here to help. We have 15+ years of online marketing experience as well as specific expertise in helping to promote organizations online in social media.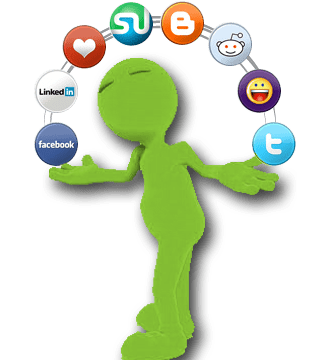 Let Us Manage Facebook, Twitter, etc for you
Let us take the reins! We'll build your following and take the pressure off so you can focus on other aspects of marketing and/or building your business.
We'll create (if necessary) and manage your Facebook page. We'll gain you "likes" and encourage people to join your page. We'll post content regularly. We'll "tweet" to your followers on Twitter and attempt to gain you new followers.
Return on Investment
Compelling advantages for our clients:
Significantly lower costs than hiring external team member(s)
Minimize liability of turnover & loss of internal knowledge/resources
Professional service and significant experience across the full spectrum of multiple social media and marketing platforms
Consistent, reliable service from an established team with proven track record
Before you hire your next full or part-time Social Media / Marketing staff member, consider the following:
Full-time SoMe Employee
LCM SoMe Consultant
Base Cost to Company
Median Salary of $77,000 in major metro areas (
example
).
20% (or less) of the total cost of an employee
Additional Costs to Company
Social Security Tax, Health Insurance, Disability Insurance, Vacation Time, Bonuses, Continuing Education, etc. Actual total employee costs can exceed $100,000+.
None.
Experience and Capabilities
Typically limited to content managment and graphics preparation; 2-5 years experience. Skilled marketing expertise requires additional employees and/or outside vendors.
Team of experts across the full spectrum of marketing, social, and web development--with 15+ years collective marketing experience.
Basis of Compensation
Time-based (40hr week).
Performance-based (services and results delivered).
Quality and Speed of Service
Typically slow and/or error-prone -- due to lack of experience or "learning curve" required when gaining hands-on experience in a new role or dealing with new technology.
Skilled professionals get work finished in a fraction of the time and with superior quality.
Turnover Liability
Yes
N/A
Please Note: We only service a limited number of social media management contracts at a given time in order to ensure quality service, so please contact us to check availability.
---
Available
Packages & Pricing
Platform Development on Twitter, Instagram, Facebook, LinkedIn, Pinterest



Proactively Attain New Followers



Engage in Twitter Chats/Discussions



# Twitter Tweets* Per Day
4
8
10+
# Instagram Updates Per Day
1
2
4+
# Facebook** Posts Per Week
4
5
10+
# Pinterest Updates Per Week
4
5
5+
# LinkedIn Updates Per Week
0
5
5+
Content Writing***
1 Blog Article/mo
2+ Blog Article/mo
Monitor SoMe platforms


Track Analytics of Posts/Tweets


Monthly Package Price
$90/wk
$195/wk
$265/wk
* Note about Twitter updates: These will focus on interacting with leaders, media outlets, 'companions' in the businesses field as well as with existing and potential customers, etc.
** Note about managing the Facebook page(s): Updates are to focus on sharing content from leaders and media outlets that are industry related as well as complimentary/supplementary non-compete business.
*** Content Writing: We will strategize with you and develop an editorial calendar to define which content postings go up when. Content writing will be business- and customer-focused.
---
Additional Scope of Service
We'll do all the following (and more):
Account Setup

LCM will set up Social Media profiles on one or more social media platforms (Client to provide all required pictures, images, and/or video for inclusion on the profile)

Ongoing Maintenance

LCM will provide full social media profile management
LCM will post several quality updates per week, utilizing up to 2 social network platforms
LCM will routinely accept "friend requests" and "followers"
LCM will remove all SPAM, if/when applicable
LCM will post promotional content, if/when promotions are run (Client will provide desired content).
Get Started Now!
Get your online presence done right
Call Us Today (603)978-8841
or use this quick contact form