Get a free SEO Website Audit today and check your website's SEO score.
Find out where you can begin to improve your site's SEO health.
What your Free Website Report will tell you:
Your free website report is a snapshot into your website's SEO effectiveness. Within an hour, often times just minutes, you will receive an email with key SEO information for up to 25 pages of your website. The Audit will tell you how many errors, warnings, and notices you have, and also your top 3 issues. It will also give you an overall score for your site to let you know how well you are doing.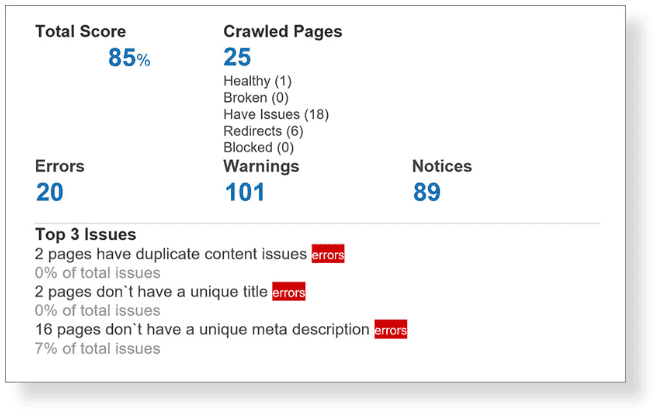 What's Your SEO Score?
Fill out the Form for your Free SEO Audit.
Within an hour you will receive your website report analyzing up to 25 pages of your website. The audit results will outline problem areas you can improve immediately. Once you have your report you can even return and request a report on your major competitor(s) and see where your website stands in comparison.
Got Questions?
If after receiving your SEO Website Audit you have questions, feel free to call and we will give you a free SEO Consultation. We'll take a look at the results with you and help you make plans for improvement.
Latest Tips
Facebook advertising is an art. Beyond radio and newspaper advertising, billboards and park benches, your audience is on Facebook and Instagram. Every. Single. Day. From the moment your perfect customer wakes up to when they go to bed, they are constantly checking newsfeeds, stories & discovering new experiences they may enjoy. Information is so outrageously [Read More]
Arthur Thomas Properties is moving their office location! In their new, beautiful location they are using a kiosk in their entryway to better assist their visitors.  LCM built them an equally beautiful app to use not only for the kiosk's tablet, but it can also be downloaded on mobile phones through the app stores. Now, [Read More]
If you are looking for ways to elevate your company's appeal in a short amount of time, nothing is quite as effective as video.