SEO Marketing
Search Engine Optimization that works
Business is very competitive; however, competing online gives us the ability to use metrics that otherwise aren't available with traditional marketing. SEO Marketing is the ultimate contest that levels the playing field for many businesses; large and small.
If you want to dominate and lead in rank, maintaining a strong SEO Marketing Campaign should be your #1 priority.
When you pursue an ongoing SEO Campaign, your business will achieve much better rankings for search engine results and obtain improved visibility that gives you the competitive edge you need.
That is where Loud Canvas comes in. We are an SEO Agency with a track record of creating SEO campaigns that work. After a complete analysis of your business, including a deep dive into your competitors' websites, we will build an SEO Campaign specific to your needs that will put you at the top of those searches.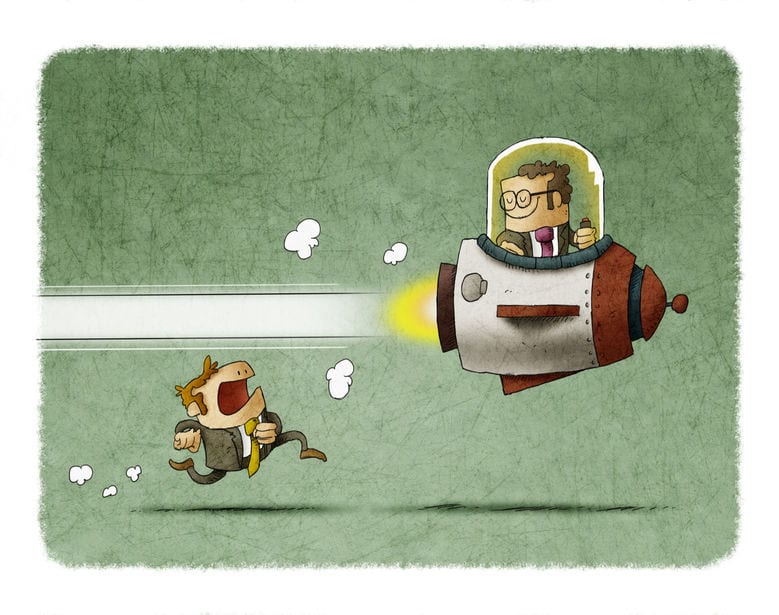 What is SEO?
SEO, short for Search Engine Optimization, is the process of improving websites so they appear as high as possible in the search results of a search engine, such as Google or Bing. Search engines determine these rankings based on algorithms they have created and are continuously updating.
At Loud Canvas, when it comes to SEO and Digital Marketing, we primarily focus on Google because, they are not only the most dominate search engine in the United States, but also worldwide. In the US Google has an 88.3% market share, huge by any comparison, but worldwide their dominance is even larger with a 92% market share. No other search engine even comes close.
Learn more about our SEO Services and Process by clicking here.
Your competitors are in the race. Are you?
61% of marketers say improving SEO and growing their organic presence is their top inbound marketing priority.
(HubSpot)

5 Reasons SEO Should Be a Priority
1) Businesses are consistently updating and improving their sites. If your competitors are among those businesses you will see your search engine rankings drop, along with your website traffic, depleting your pool of potential new clients. This happens because those companies who are not keeping up with their competition can quickly see their search engine rankings disappear, something you don't want to happen to your website.
2) Google (responsible for 94% of organic search) is constantly changing their algorithms. Google's primary goal is to answer their users' questions, and to do so they are continuously updating their algorithms, upwards to a thousand times a year. If you are not keeping up with the major changes and reevaluating your strategies accordingly, you are going to lose ground.
In January 2020, Google had a core update that resulted in many pages dropping in search results, ultimately changing SEO strategy. Sites dropped, not because they were devalued, but because there were new elements added to the algorithm. So, sites were evaluated differently. Things that now appear in search results, that did not before, are Featured snippets, Video Carousels, and People Also Ask boxes.
3) The way searchers search is an ever-evolving process. More and more searches are now being done on mobile phone. More than 46% of Americans check their cell phones before they get out of bed and according to Google over 51% of smartphone users have discovered a new company or product while searching on their smartphone.
Because of the move to mobile search, and the increase in home smart devices such as Alexa, one of the biggest trends in the future just may be in voice search. According to Wordstream there are over 1 billion voice searches per month. So, don't forget to include Voice Search in your SEO strategy.
4) Establishing your business as an authority takes time. Nothing happens overnight, and just as it has taken time to grow your business, it takes time to grow your presence on the web. As your content grows that is relevant to your potential new customers and existing clients, your rankings are going to grow. The more relevant content you have compared to your competitors, the more relevant you are going to be to Google, and the higher your rankings.
5) According to BrightEdge 51% of all traffic is organic, 10% from paid, 5% from social, and 34% from all other.
Achieving Real SEO Results

"We have been working with Loud Canvas for over a year now on a SEO campaign to boost the visibility of our law firm. The plan that Loud Canvas put together for us had been very effective. We have noticed a significant increase in the traffic to our website, leads coming from our website and live phone calls coming into our office. We had used a large national company before Loud Canvas.
The cost was about the same but the results were no where near what Loud Canvas has done for us, nor the amount of communication. As a smaller law firm we have to make every marketing dollar work for us.
We are getting strong value for those dollars with Loud Canvas."
~ Nick Wright, BKW Lawyers
30%
Increase in Site Traffic within 180 days
Are you ready to optimize your website? Call us today for a free SEO Consultation, or fill out the form below. We would love to help you.
Don't miss out on your Free 25 page SEO Technical Report by clicking here. Or better still call us at (833) 568-3226 and get a free 100 page SEO Report and Consultation.
Here is just a sampling of the Digital Marketing Services we offer :
We can help your business revitalize its Digital Marketing Strategy or assist in areas where you are looking for additional expertise.
With a wide range of skills and strategies we ensure you are getting the maximum benefit for your unique needs.
Website Design
Lead Generators
Landing Pages
Digital Marketing and SEO Tips
3 Reasons Why Your Company Needs Video
The most successful websites are no longer boring static sites. More and more websites are now creating a video experience focused on their brands, that ultimately leads to higher conversions.
The Art Of Facebook Advertising
Facebook advertising is an art. Beyond radio and newspaper advertising, billboards and park benches, your audience is on Facebook and Instagram. Every. Single. Day. How do you attract new customers, grow your audience, and retain them for a long time? Show them the reason why with compelling Facebook and Instagram ads.
Get a Free Website Appraisal
Or, if you just have a question, we love those too!