Smitty's Cinema
Smitty's Cinema
Biddleford Sanford Tilton Windham Topsham ME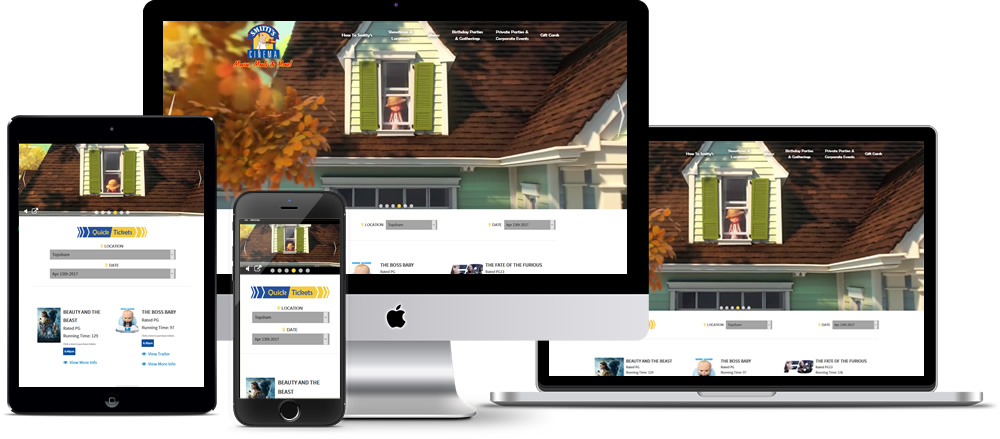 Loud Canvas Media worked with Smitty's Cinema to completely redesign their website, promotional videos, and web marketing from the ground up. We interfaced with multiple data APIs in order to dynamically display movie showtimes on their site and across all locations; we also interfaced with open-source movie databases to display movie details, images, and video trailers.
LCM custom-designed a CMS for Smitty's which allows their staff to easily maintain and customize the website--from their menu page to the movie promos, to in-store billboards, to the vast array of landing pages needed for the functions and events they regularly throw.
LCM ensures security for Smitty's website and their e-commerce components is iron-clad. LCM proudly supports our friends at Smitty's and maintains a close partnership for long-term success; we will endeavor to proactively work together to improve their marketing efforts in the Maine / Greater Seacoast area.
I can't say enough amazing things about the Loud Canvas Team! They were able to offer us an amazing service at an unbeatable price - they continue to impress long after our site has launched. They are always quick in their responses to our questions and go above and beyond when it comes to support by recommending new and exciting ideas to us as a company. The company and I value our relationship with Loud Canvas Media very much and are excited to continue to grow with them in years to come!

- Courtney Taylor, Marketing Director, Smitty's Theater
LCM-Created Promo Video for Smitty's
---
GET YOUR ONLINE PRESENCE DONE RIGHT
Loud Canvas Media not only has the skills to design your website, but also to manage it as well! We can implement a CMS so you have full control; or we can take care of every minor content change for you so you don't need to worry about the technical controls.
And we don't stop with your website; we can assist with your branding and business marketing strategy, too! For example, we can manage your social media platforms so that it's one less thing you need to do with your day. Yea, we pretty much got your back in everything so you can stay busy running your business. :-)
Interested in learning more?
Get Started Now!
Get your online presence done right
or use this quick contact form