Overview
The Loud Canvas Media team was brought on to Design and Develop a full site refresh for Bosen & Associates. Our goal was to create a modern and easy-to-navigate website to help improve Bosen and Associates' web presence.
After a review of Bosen and Associates' legacy site, it was clear that we wanted to make the methods of contacting the law firm as easy as possible for potential clients.
Our Creative team was also challenged to update the Bosen and Associates logo to provide easy-to-recognize branding for the firm. Our Video & Photography team was brought in to visit Bosen and Associates' office in Portsmouth, NH, and do a full photoshoot to support the web build.
Below are some captures of Bosen and Associates' legacy site. You can view the legacy site on webarchive.org
The Logo
Our Creative team got to work on crafting an updated logo and identity for Bosen and Associates, while our Photography team scheduled and managed a photoshoot to supply updated assets for the web design.
When designing a new logo, we met with the client and identified a few needs. We wanted to make the logo easier to read on various backgrounds, simplify the naming, and introduce an icon that represented the firm's seacoast origins.
Talking with the team at Bosen & Associates, we knew we wanted the updated look to stay elegant and maintain the blue and gold color scheme from their old website.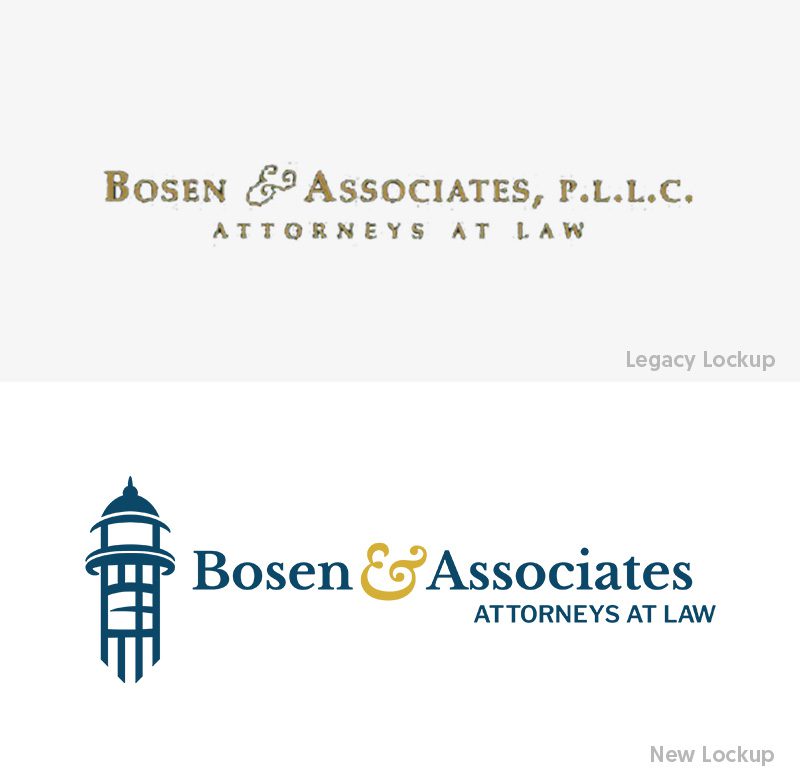 Working with the information provided, our Creative team crafted a new logo and wordmark that incorporated the law firm's seacoast origins with a classical column associated with the law.
Additionally, we were able to utilize the shape of the column to sneak a monogram of BA into the icon for Bosen & Associates.
Bosen and Associates were provided a full library of their logo for future needs. You can explore the full exports by clicking the link below.
The Photoshoot
Our Video and Photography team scheduled a photo shoot with the client to capture their office and staff images. This enabled our team to use all-new and updated media for the website design and development.
A couple of images from the photoshoot are below.
The Final Web Build
With the groundwork completed, we got to work on the new website! We prioritized easy navigation and creating a consistent call to action on all of the pages.
Taking inspiration from the work done on the logo and branding, we wanted to keep the design modern and inviting while taking full advantage of the blue and gold color scheme.
We built the new website on the WordPress CMS to keep it easy to edit and accessible for the client and our team in the future as we provide ongoing support and maintenance. Working with our design team, we crafted a special site footer animation for the website.
The result is a full redesign made with love and care for the law firm's branding and image.
To get the full experience, we recommend visiting the new website at bosenandassociates.com