Royale Limo
Royale Limo
A Social Media Management Case Study
Early March 2017 Start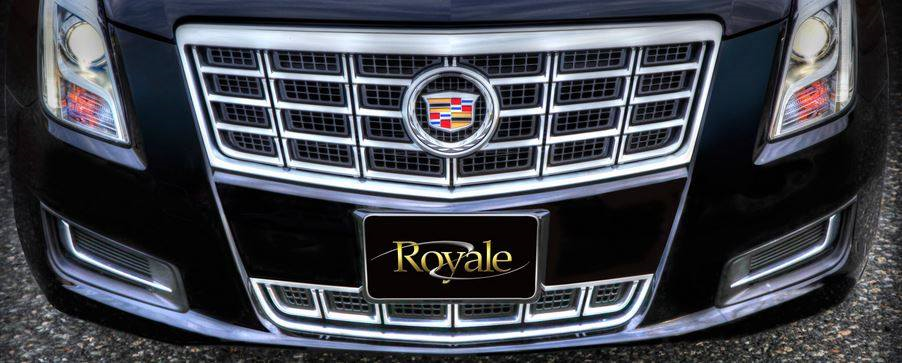 BACKGROUND
Royale Limousine (Haverill, MA // Part of Cabot Coach Builders) was a well-established business - crafters of luxurious limousines & coaches from Lincoln, Cadillac, and Mercedes-Benz - that had some difficulty in establishing themselves online, especially as it pertained to the social media platforms of Facebook, Twitter, and Instagram.
Their staff found it tough to balance the management of the various social accounts all while keeping their day-to-day business tasks at the forefront.
Loud Canvas Media was brought on to not only manage the accounts -- acting as an extension of Royale themselves -- but to drive attention to their vehicles, to grow their audience and community, and to further cultivate their 27-year-old brand.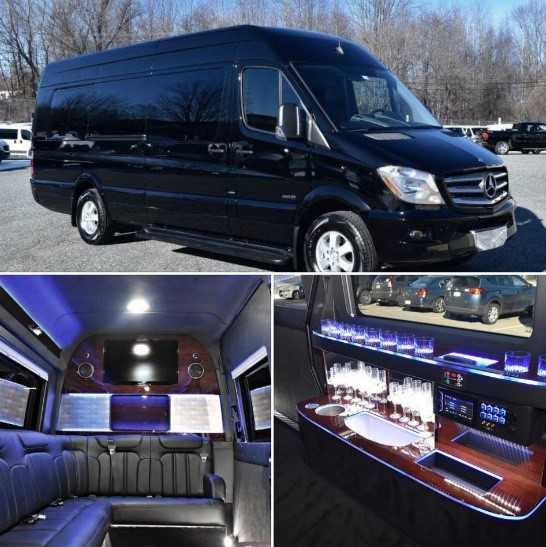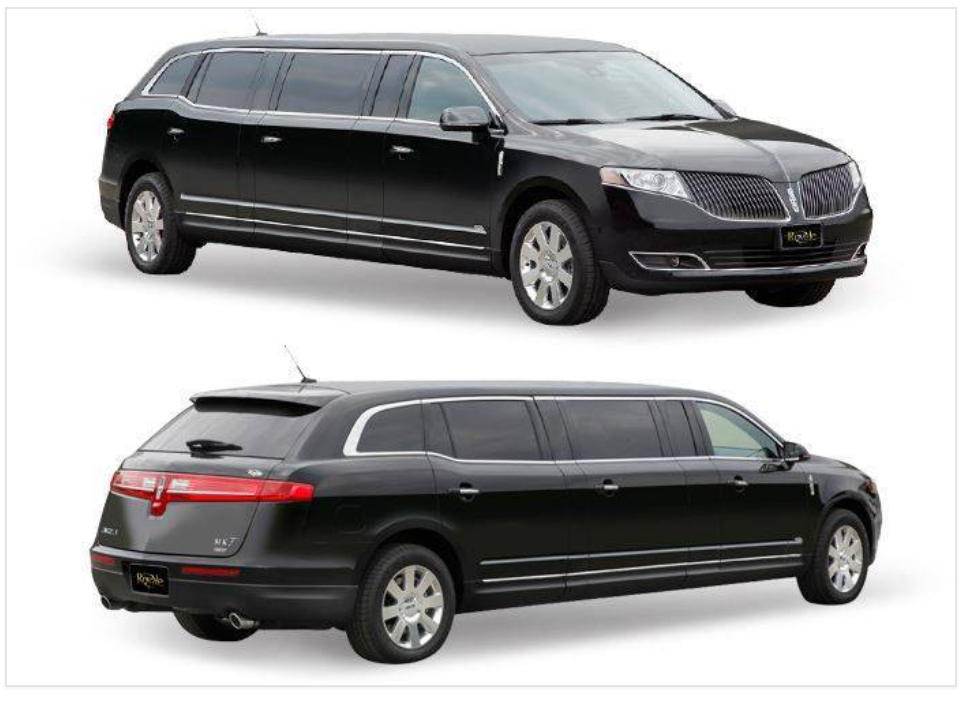 OUR SOCIAL MEDIA / DIGITAL MARKETING PROCESS
LCM took over the controls during what was considered a slow period for the business as Royale was not moving a high volume of units. In typical circumstances around the office, the staff would allow social media management to take a backseat, almost to the point where it ceased completely. In the efforts to make those crucial sales and to hit the desired numbers, Loud Canvas Media met with and reviewed best practices with the team. We learned the ins-and-outs of business, reviewed the previous marketing initiatives, and became an integral part of the team as we began working on behalf of, and as, Royale Limo ourselves.
We ironed out any potential trouble spots with the platforms, before building a base of content -- both newly created as well as curated -- that would gain the attention the business deserved. Loud Canvas Media worked to:
Engage and develop relationships and conversations with customers of past, present, and future;
Compose fresh articles and content pieces to be published regularly on the website and social media platforms;
Spread news, information, and promotions on a daily basis;
Describe and promote their lines of vehicles in clear and articulate ways;
And (most importantly) seek out and attract NEW customers to the company -- connecting with them and starting a dialogue
The biggest piece of our plan of action was to change the course of Royale's online marketing - taking the audience from simply being relatives and community members in their inner circle of 'friends' and putting the necessary information, sales, and promotions squarely in front of the people and businesses that would purchase these vehicles. Twitter became a communication tool with industry leaders and business owners (of limo services, etc); Instagram popped with fresh images of vehicles and quote cards with attractive descriptions, and Facebook became the hub -- the 'Town Hall' -- for a number of these conversations to take place.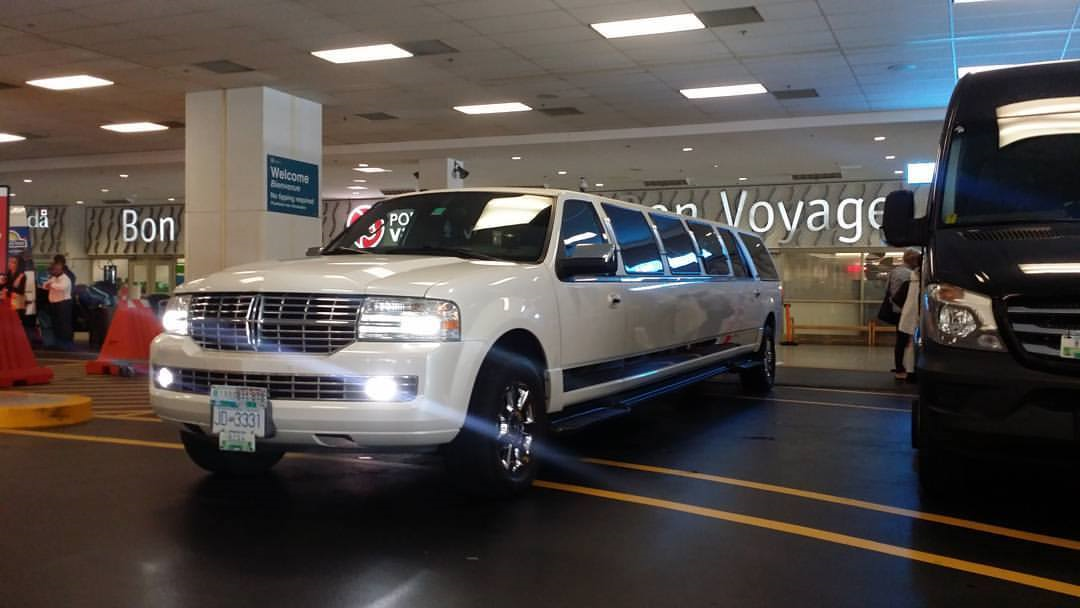 SUCCESS!
It wasn't before too long -- only a month into our term and still in this slower period -- that Loud Canvas Media had made a major impact.
LCM connected with a number of limousine and black car services throughout the US using social media. A company from Tennessee reached out via Instagram and Twitter, inquiring as to the potential purchase for a new stretch limo.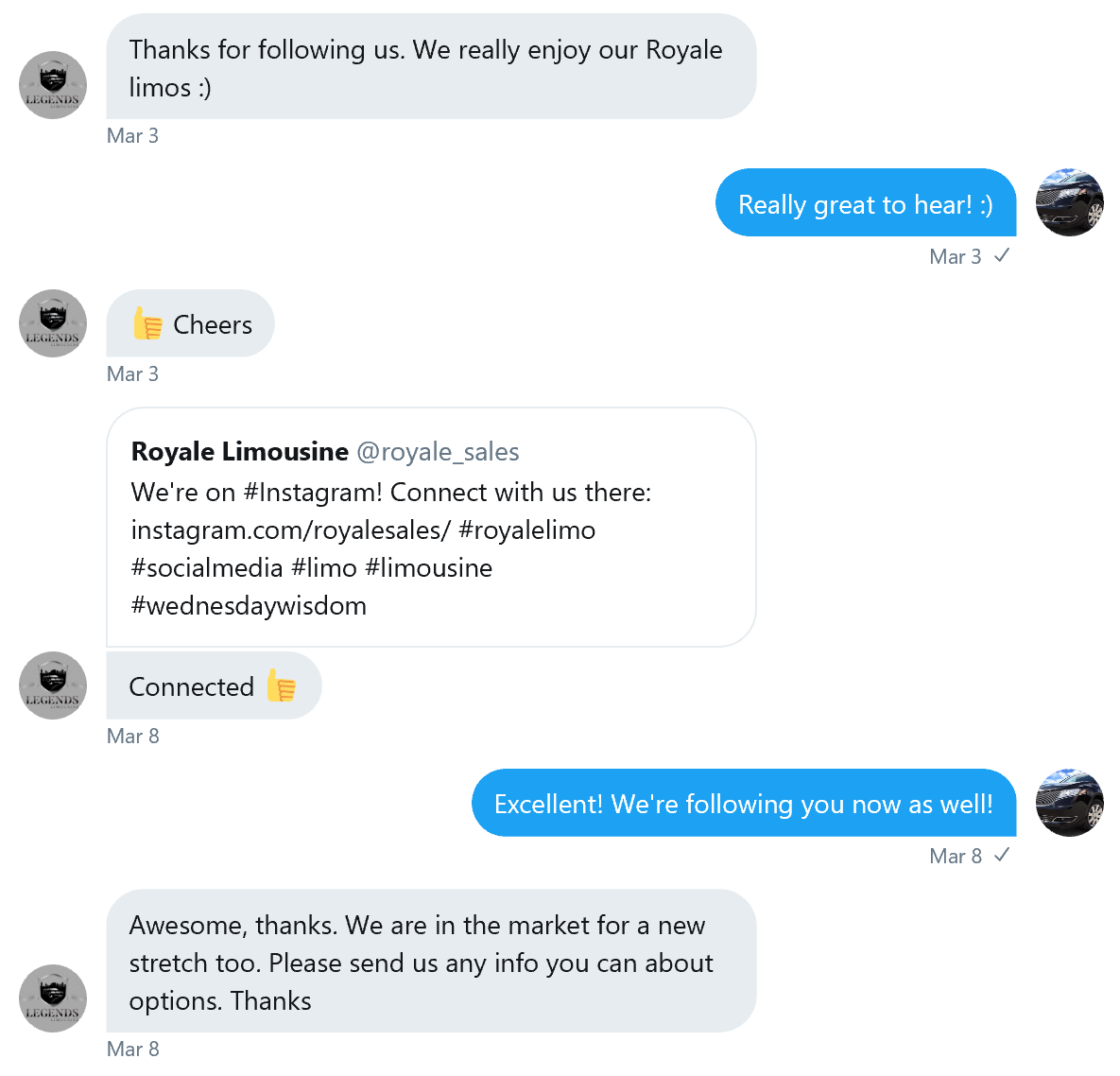 As indicated above, LCM, acting professionally as Royale, did more than just 'follow' -- quite simply there was engagement, a relationship built, and the start of a business deal. Loud Canvas Media connected the Tennessee business to the Royale Limo sales rep for that area of the US that day via text and the rest is history! Within days, the sides had cut a deal for the purchase -- one that was negotiated to between $60,000 and $80,000.
Loud Canvas Media's social media team is starting conversations and building trust. We get behind the scenes to get our clients out in front of their competition. We are showcasing them: to prove their authenticity in an online world, to display their hard work, to boost their brand. Going 'under the hood' with a company like Royale, given that much of their work is proprietary in nature, we couldn't display manufacturing specifics to our growing social, but we did give potential buyers and car service owners a view and an understanding of the top-of-the-line products coming from tremendous people, vehicles that they should be adding to their fleet.
We're with Royale Limo every step of the way in their digital marketing initiatives, getting them the attention they have earned. Their brand is in hotels and casinos from coast to coast, their logo proudly displayed on the backs of their vehicles and high atop Fenway Park. With Loud Canvas Media driving each of their social platforms to over 200% growth, we've bolstered their brand while they work to continue crafting and selling America's best limousines.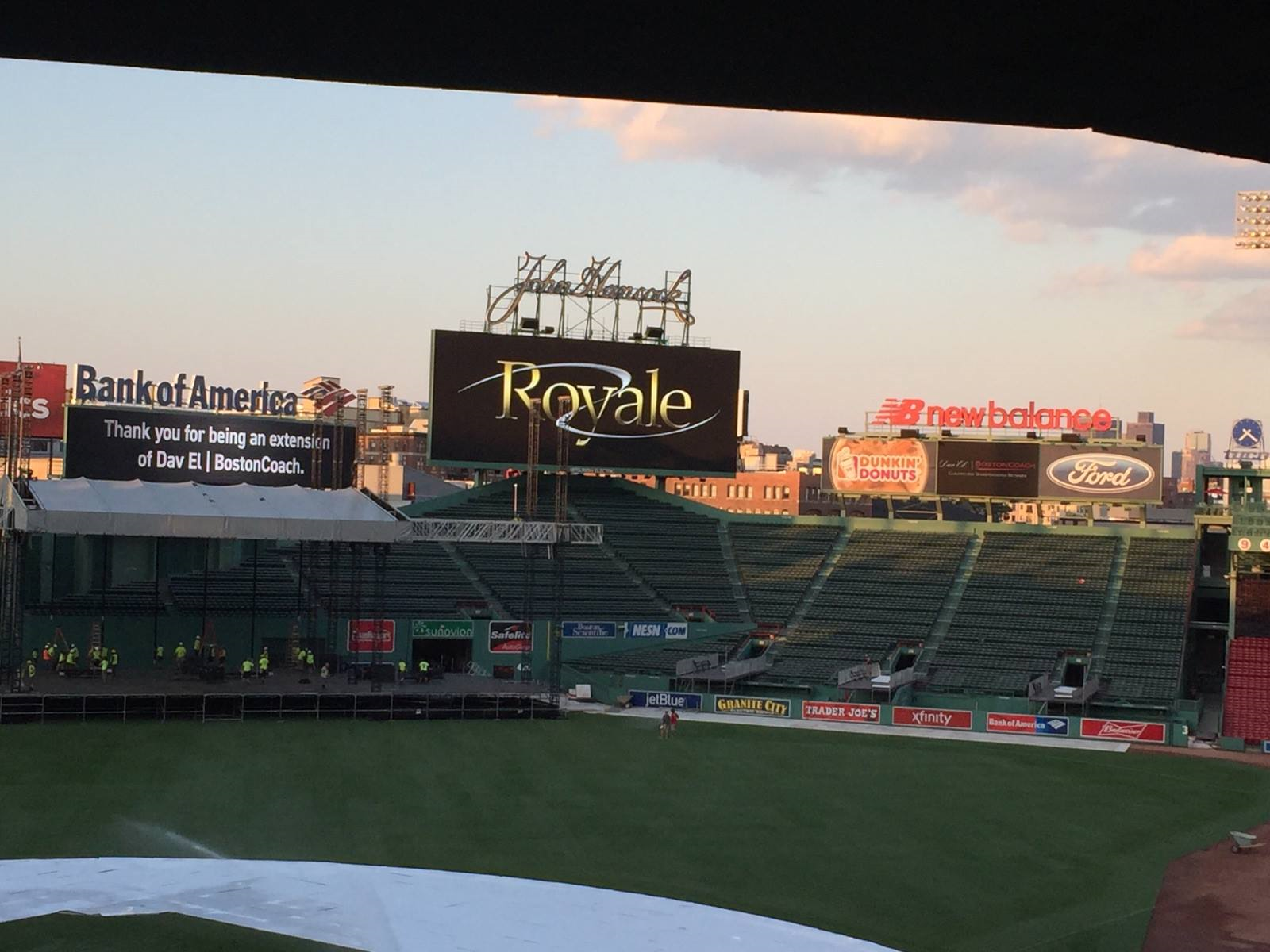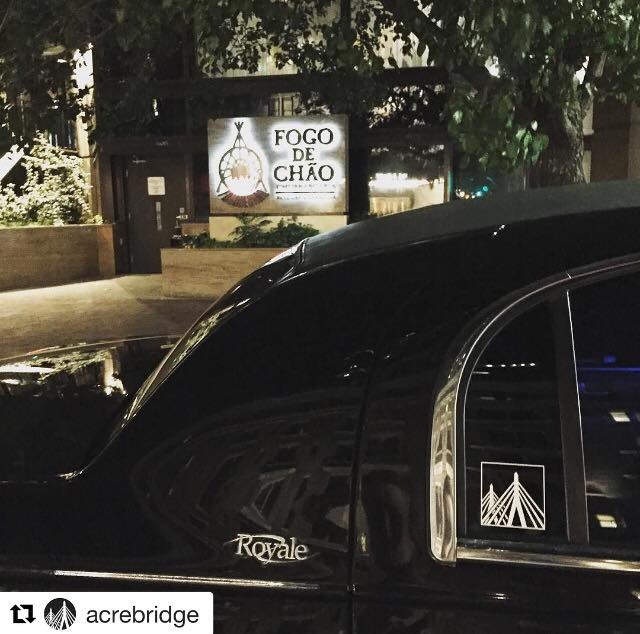 ---
Digital Marketing Done Right!
Anyone can "control" a social media account like Facebook or Twitter. However, the real benefits for a business come when it is managed effectively. If you're just posting a couple times a week (when time permits) and/or not engaging DAILY with your visitors and/or not adhereing to a specific marketing roadmap and content delivery strategy - YOU COULD BE DOING MORE HARM THAN GOOD!
Effective Social Media Management and Digital Marketing for a business or non-profit is COMPLETELY DIFFERENT than running a social media platform for your personal use. It requires rigor, well-crafted strategy, and (most importantly) constant vigilance. If you don't have the requisite hours to put in weekly the campaign will fall flat and not be worth it. On the other hand, if you hire someone who doesn't know how to correctly drive a social media campaign for a business, you could wind up playing significant damage control for your brand image!
Let LCM handle the reins for you!
We'll work as an extension of you and drive your brand image online and help create and curate content for your posts and website. This improves not just your marketing, but your online SEO score as well!
Our focus is on ROI (return on your investment). So if you aren't MAKING more money (and gaining more awareness for your brand) in a quantifable way that EXCEEDS your spend, we'll call it quits. We always work with our clients to ensure they are seeing the value manifest 3x, 5x, sometimes 10x+ their expenses in the digitial marketing space.
Want to learn more?
Contact us
today for a FREE quote on how we can drive your social media management and digital marketing roadmap.
You an also click here to read more about our standard pricing and SMM serivce
Get Started Now!
Get your online presence done right
or use this quick contact form