At Loud Canvas Media we pride ourselves on our strong, local roots and working with clients from all over New Hampshire—from the Seacoast to the Lakes Region to the White Mountains.  We specifically enjoy the amazing community where our office is located: Dover, New Hampshire.  Since we work right in the heart of downtown Dover, we like to explore the local restaurants during our lunch breaks.  After some time of exploration, we obviously have discovered some of our favorite local, go-to eateries.  Each of our favorites has their own special, unique appeal and things to offer.  In this post, I am going to be focusing on the Thirsty Moose.
The Dover location of the Thirsty Moose is just one of five different locations, so it's not one of the many "hidden gems" tucked away in Dover.  Yet, the fact that they are located in so many different New Hampshire towns should be a hint at how popular they are.  Just as they are popular with the rest of New Hampshire residents, they are equally popular with the entire Loud Canvas team.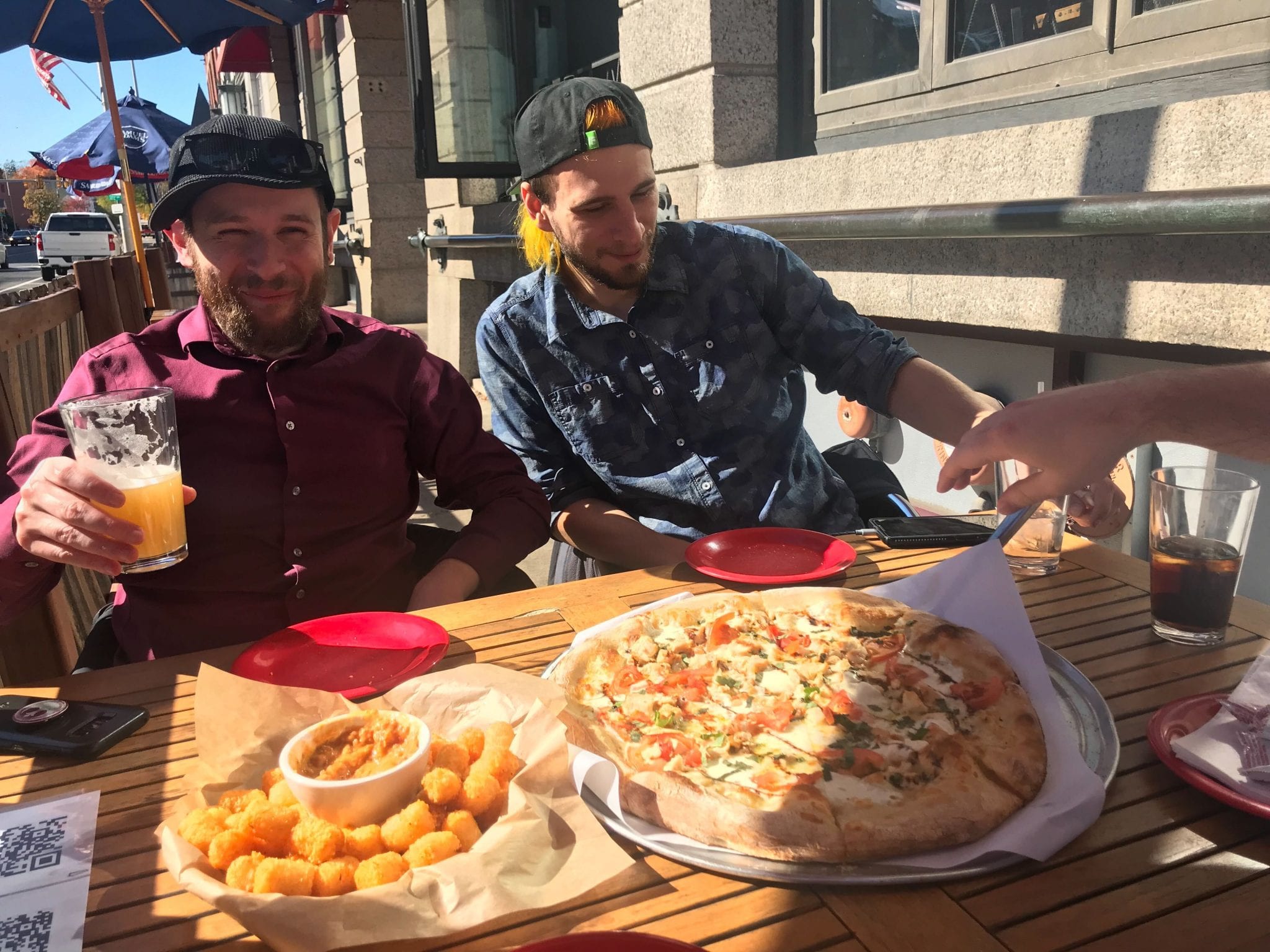 My first experience with the Thirsty Moose was when I had first started working at the office.  After a long day at the office some coworkers and I were invited out for drinks by Kevin Duffy. According to him: "The Moose is a great neighborhood restaurant/bar, very welcoming with the friendliest staff in town."
I personally am a huge beer connoisseur and also a huge beer snob.  I am always skeptical of going to new places, unsure if they will be able to provide my refined beer palate the proper IPA it is accustomed to. If it lacks the proper combination of hops and yeast, I will opt to drink water over beer. Well, as I walked into the restaurant I was met with an entire wall of different beer taps, which immediately washed away all of my skepticism.  The Thirsty Moose has one of the most extensive beer selections in Dover—from New England IPAs, porters, ales, ciders, etc. even the basics like Bud Light (an unfortunate favorite of our amazing boss, Sean Dempsey).
When my lunch buddy, our Senior Developer, George Whitcher and I venture there, it's always the same beer order: a Fiddlehead IPA. This beer is from a brewery located in Shelburne, Vermont—a state where another large base of our clientele is located.  George is also a big beer aficionado and he raves that "the beer lineup is one of the best in Dover, NH" and also that they have "delicious food along with their amazing variety of beers."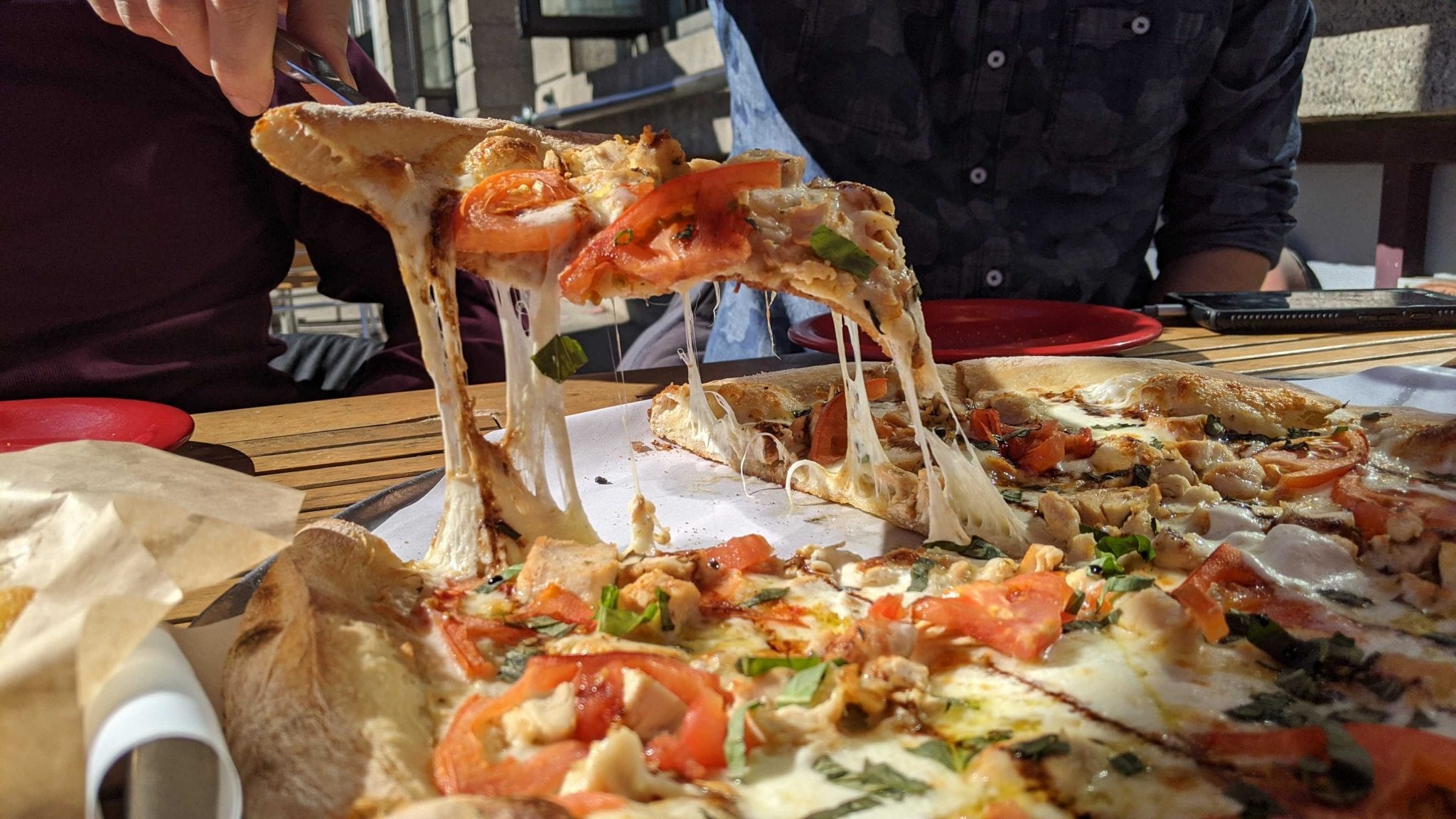 The second time I visited the Thirsty Moose was for the food and it was with the entire office for a team outing.  We are a close-knit group of hardworking individuals who enjoy spending time with each other and who also enjoy a good deal.  On Thursdays, they offer half-off pizzas.  We always order the same pizza: Caprese Chicken.  It is a delicious combination of chicken (obviously), fresh mozzarella, tomatoes, basil with a balsamic drizzle.  We have probably ordered enough of these pizzas in my years of working here to fill Sean Dempsey's entire office.
Sometimes we do get adventurous and try other items on the menu, like Erinn, our Client Relations Manager, did when she came to visit from our Virginia location.  She professes: "I had a whole new experience when I tried their quesadilla.  I am a life-long quesadilla advocate and this delectable piece of scrumptiousness brought my expectations to a whole new level."  I mean, if that review doesn't make you want to try a quesadilla from the Thirsty Moose, then I don't know what would. Our team also has their other favorites, our Designer/Developer, Sam Wood, turned us all onto the "Naughty Tots" and created some forever fans.  We now always order them as an appetizer every time we go.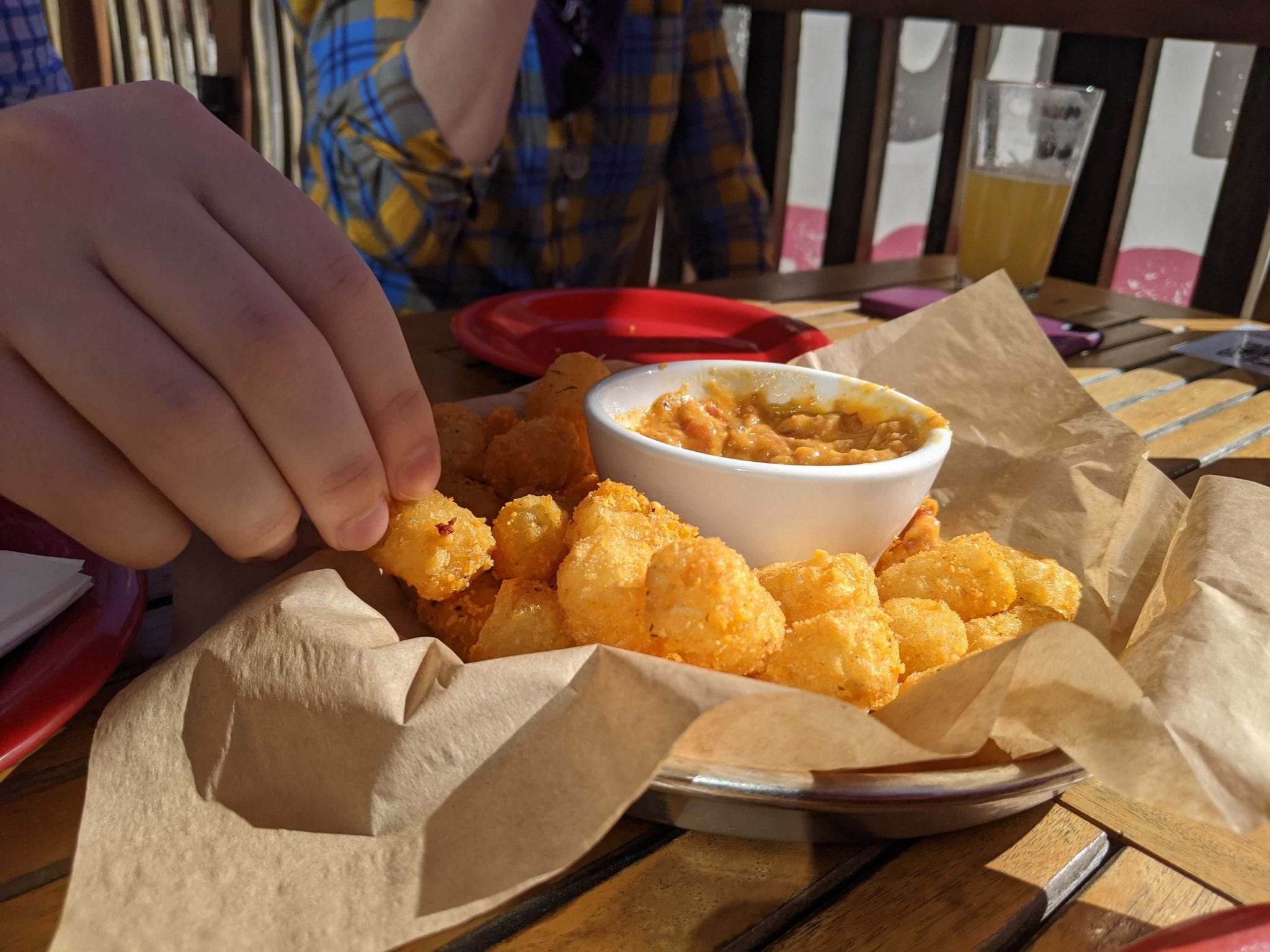 We don't only go to the Moose with our co-workers, we also take our clients there.  As our owner, Sean Dempsey, states: "I go to the Moose whenever I want a business meeting to go well. They have an open and casual environment that's warm and inviting."  We have made many business deals and created lasting partnerships over their delicious food and beverages.  Recently, we were even treated to a meal there by our client, Dover Children's Home, as a thank you for building their new website.  It seems that Loud Canvas is not the only one who utilizes the pleasant environment to meet with their clients and partners.
This local establishment is loved by the entire Dover community and will remain on Loud Canvas Media's list of favored eating establishments for the foreseeable future.  We are proud to help support all of our local businesses, especially those who help us remain fed, full, and satisfied. If you want to learn more about Loud Canvas' team of talented, tech-savvy, Thirsty Moose fans mentioned above, check out our about page.