Vermont Symphony Orchestra
Vermont Symphony Orchestra
A Case Study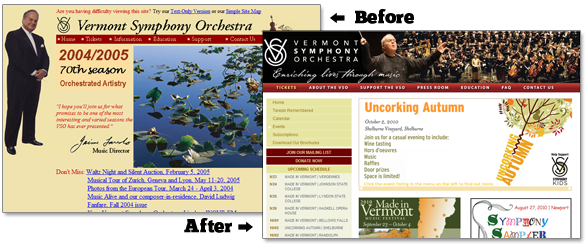 LCM re-architected & developed the VSO website as part of our annual "Free Website" promotion for a worthy Vermont non-profit. The result was a professional new site and the integration of a CMS which the VSO staff can use to easily promote their concerts & events as well as edit each page.
Continued Support
LCM remains a dedicated partner to the VSO and supports their vision and motto -- Enriching Lives Through Music. In a sense, we feel a similar way about providing websites; we hope that in the same way music enriches lives, we are helping to enrich businesses (and non-profits) by increasing awareness and simplicity online.
Some Kind Words
Working with Loud Canvas has been a wonderful experience. In a time when people are getting their information from the internet more and more, we knew that a strong internet presence that was well-organized and up-to-date was an essential marketing tool. As a non-profit, being able to make updates to our content and design our own graphics gives us the flexibility to remain relevant while keeping costs low. Whenever there is a change that needs to be made on the development/programming side of things, Sean and his team are so quick to make those changes. I (being the organization's internet marketing specialist and website lady) am able to work from home and choose my hours to work. There have been times I have sought the expertise of the Loud Canvas crew at late hours or on the weekend and they are right there to help me out. This is a wonderful company with a great staff and a wonderful product.


~Rebecca Kopycinski, Ensemble Coordinator, VSO.org
Results
---
GET YOUR ONLINE PRESENCE DONE RIGHT
Loud Canvas Media not only has the skills to design your website, but also to develop tools or provide marketing services. Looking to install a Shopping Cart and/or payment solution? Want to develop a Web Application to do something never done before? Need someone to manage your social media sites? We have the skills, tools, and experience to meet your needs effectively and affordably.
Get Started Now!
Get your online presence done right
Call Us Today (603)978-8841
or use this quick contact form