Livingston Farm Landscape
Livingston Farm Landscape
A Case Study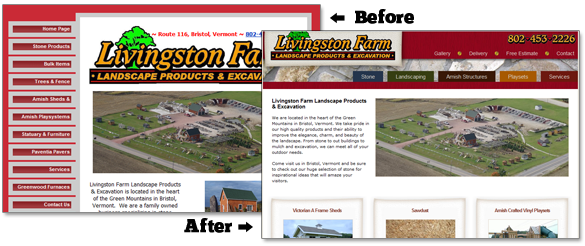 Before coming to Loud Canvas Media, Livingston Farm maintained a 15-page site which listed only a fraction of their vast array of products and services. It was clumsy and very difficult to maintain/edit. Today the Livingston Farms website has more than 280 pages and a design that the organization is proud to showcase.
Positioned for Success
From a Search Engine Optimization ("SEO") perspective their new site is far-better positioned to capture more of the marketshare for the products and services they provide. We are very excited to see how this will impact their profit and growth potential in the long run.
Easily Maintained
The new site has been integrated with LCM's own easy-to-use Content Management System ("CMS"). This enables staff at Livingston Farm to easily update information about their products during any time of the day or night.
Behind the Scenes
Loud Canvas Media is committed to being a long-term partner with Livingston Farm. We are hosting and supporting their site on an on-going basis. This allows Livingston Farm to sleep well at night knowing they don't need to worry about anything technical; we have their back when it comes to their website!
Results
---
GET YOUR ONLINE PRESENCE DONE RIGHT
Loud Canvas Media not only has the skills to design your website, but also to develop tools or provide marketing services. Looking to install a Shopping Cart and/or payment solution? Want to develop a Web Application to do something never done before? Need someone to manage your social media sites? We have the skills, tools, and experience to meet your needs effectively and affordably.
Get Started Now!
Get your online presence done right
Call Us Today (603)978-8841
or use this quick contact form