Gerard Williams, ASL Intrepreter
Gerard Williams, ASL Intrepreter
A Case Study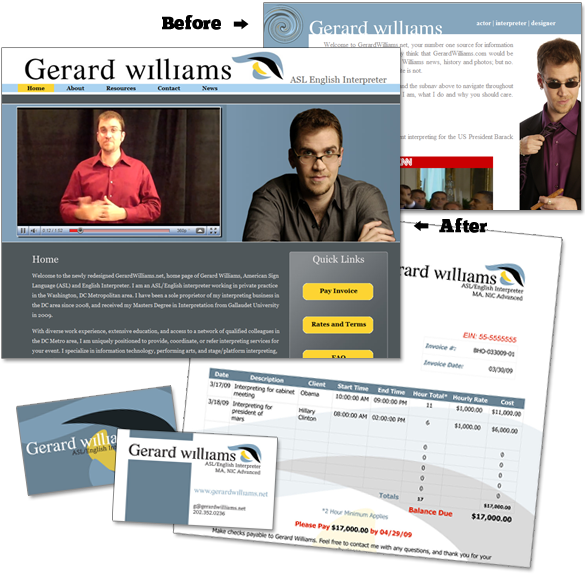 Gerard Williams is an American Sign Language/English interpreter for the Deaf community. He is located in the Washington, DC area and has interpreted for organizations/persons such as the Smithsonian, Kennedy Center, and President Barack Obama.
LCM successfully worked to help Gerard rebrand his business and focus his online presence on his core competencies. This effort was coupled by a move away from his (prior) focus on Acting, Designing, and Intrepreting to just Intrepreting. This allowed the redesign to take focus and drive toward a more profitable business model for Gerard
Print Materials
We provided the following print materials as part of Gerard's rebranding efforts:
A new business logo
New business cards
A redesigned resume
A redesigned invoice
A redesigned terms and conditions document
Services
LCM worked with Gerard to setup and integrate a payment system into his website. This allowed Gerard to invoice customers and then direct them to his website to pay. His clients can pay with any major credit card. Authorize.net was used as the payment gateway for this endeavor.
LCM hosts and helps support GerardWilliams.net on an on-going basis. We remain a committed partner with Gerard as his business grows and thrives.
Some Kind Words
Working with LoudCanvas was a delight. Not only is their business professionally and impeccably run, but their design work is unparalleled. Their staff were courteous throughout the web design process, which can often be daunting and complicated. They gave me a detailed breakdown of the services they would provide, and the reasonable prices at which they would provide them. The design/review process was seamless, and I thoroughly enjoyed working with their talented design and implementation teams. Answers to my many questions were always thoughtful and courteous, prices fair and reasonable, and altogether the service was stellar. I'd recommend them to any small business trying to drastically improve their presence on the web with a professional, sleek, and beautiful site.


~Gerard Williams
Web & Print Design Results
---
GET YOUR ONLINE PRESENCE DONE RIGHT
Loud Canvas Media not only has the skills to design your website, but also to develop tools or provide marketing services. Looking to install a Shopping Cart and/or payment solution? Want to develop a Web Application to do something never done before? Need someone to manage your social media sites? We have the skills, tools, and experience to meet your needs effectively and affordably.
Get Started Now!
Get your online presence done right
or use this quick contact form