GW Savage Corporation
GW Savage Corporation
A Case Study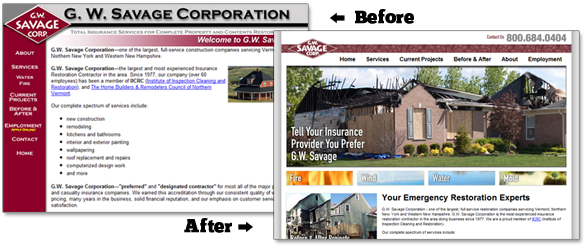 LCM worked with Doug Ellwood of GW Savage Corporation to drastically redesign their website and have it better align with their business model.
LCM spent time in an interviewing process so as to determine their corporate vision, demographic, range of services, and intended user experience. In short - customers had to very easily be able to access information and view examples of current and past work. Their site is now sectionalized into the Four facets (service categories) -- Wind, Water, Mold, and Fire. The result is a better organized and more aesthetically-pleasing website.
Continued Partner
Loud Canvas Media now supports the GW Savage website on an on-going basis. By electing for one of our Webmaster Support Packages GW Savage can update their website at any time by just emailing our staff; we respond in a timely fashion and they don't need to lift a finger. This allows Doug and staff to exclusively deal with the day-to-day facets of running a business and not worry about any of the technical details of maintaining a website.
Website Redesign Closeups
---
GET YOUR ONLINE PRESENCE DONE RIGHT
Loud Canvas Media not only has the skills to design your website, but also to develop tools or provide marketing services. Looking to install a Shopping Cart and/or payment solution? Want to develop a Web Application to do something never done before? Need someone to manage your social media sites? We have the skills, tools, and experience to meet your needs effectively and affordably.
Get Started Now!
Get your online presence done right
Call Us Today (603)978-8841
or use this quick contact form