Time is a precious thing. People are always concerned that they don't have enough of it, it passes too quickly, it is being wasted, and it is something out of their control.  When dealing with various web and digital marketing projects it is always important to remember the preciousness of time.
In today's day and age, every business needs a website and to also be thinking about modern ways of marketing in the digital world that surrounds us all.  That is where Loud Canvas steps into the picture: to help you make time for your own business by efficiently using our time to help you accomplish your company's goals.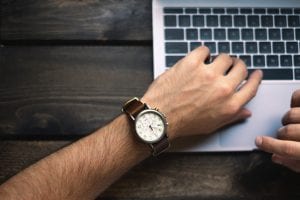 At Loud Canvas Media we deal with lots of different projects and each project relates to time differently. Each project has a different timeline and deadline and we do all that we can to accommodate all our client's timely needs.
Here are some of the most common website & design related projects that we work on and their general budgeted timelines:


Website Design & Development:
For most of the clients that we work with, we can get their new standard website ready in 4-6 weeks. Yet, we work with all types of sites, so sometimes there is additional functionality or other factors that can alter this general timeline.   We take about a week to design a site, then we send it to the client for review and their feedback. We then take all of their input and revise the design to assure that their new website will look exactly like they want.  Once we have their sign off on the design, then we begin the development phase.  This process usually takes about 2 weeks. After the site is developed, we go through the same feedback process with our clients to assure that it not only looks exactly like they want it to, but it functions exactly as they want it to.  Once we have the official sign off on the website, we launch it and send it out into the vast worldwide web!
Website Audit & Update:
Sometimes people don't need a new site, they just want a new website partner and a little "facelift" done on their current site.  At Loud Canvas Media, we offer free website audits where we will go through your website and provide all of our suggestions on how your website can be more aesthetically pleasing and more user-friendly.  This audit can be completed in a few days. After our audit is completed, we review it with the client for their input and sign off.  We can make changes to a WordPress site in about a week.  That brings us to our next common project…
Website Conversion:
So, what if you don't have a WordPress site?  There are many companies out there that offer the same services as us, but they are not all as responsive and connected to their clients as Loud Canvas.  We very often have clients requesting that we transfer their site from their current platform to WordPress and also transfer their hosting to our secure servers.  These conversions usually take about 2 weeks to complete.  We then take over taking care of the security, maintenance, support and updates on the site.
Graphic Design:
Not every company needs a new website or to change their website, perhaps they are looking for a logo or a brochure.  Loud Canvas can do it all! We have created lots of logos for our clients (for both new companies and updated logos for existing companies).  We also provide print marketing services.  These timelines often vary depending on the nature of the request.  Our designers can get something ready for client review in about a week and then work closely with the client to assure that their vision becomes a reality with the assistance of our talented design team.