Burlington, VT & Dover/Somersworth, NH Website Design, Hosting, Development, and SEO (603) 978-8841
Mobile Websites & QR Codes
Promote Your Organization with a Mobile Site and QR Code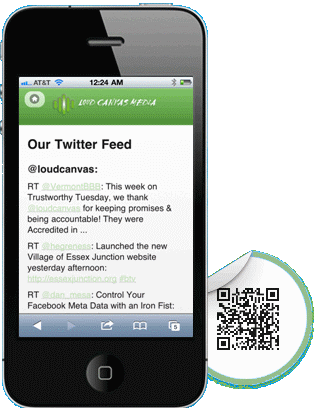 Loud Canvas Media is now a leader in providing Mobile Website Development. This service is geared toward helping organizations further capitalize on their website investment and better-establish their online presence.
Mobile Use in the United States
The mobile web has emerged as the latest frontier in website development, as more and more users regularly access the Internet on smartphones such as iPhone, Blackberry, Droid, and other high-powered handheld devices. In fact, many leading industry analysts project that within a few short years, mobile phones will overtake PCs as the most common Web access device worldwide (See reports from Gartner and Morgan Stanley).
You Must Optimize for Mobile!
If you own a mobile smartphone, we encourage you to pull up your current website and see how it looks. Warning: you may not be pleased with the result. Your website was likely designed for "the desktop," not for the mobile device. For example, you will need to "zoom in" to the content to view it; clicking links (especially from dropdown menus) is also extremely difficult.
Far more importantly - if your content is not visually appealing (which it will not be if it's a desktop site viewed on a small mobile screen) you're likely to 'turn off' customers visiting your site on a smartphone. And since mobile website viewing is growing exponentially (see resource articles below), this could leave you at a disadvantage.
QR Codes
Advertising with QR Codes is an easy way for our clients to bridge the "real world" and the "mobile web." Advertisers are increasingly using QR Codes (Quick Response Codes) with tremendous success. In this way, organizations are able to "link" a physical code (put on advertisements, flyers, brochures, etc) to a website. Users can scan these codes and be taken to your site -- ideally your mobile site.
There is a lot to learn in the mobile arena, and in many ways it is continually-changing. Allow LCM to help you make sense of the "mobile landscape" and create a mobile-friendly website for your organization and improve your marketing by linking to it from QR Codes.
Click here to read more about how QR codes can help your marketing efforts.
Contact us today to find out more and inquire about pricing.
Useful Articles
Article - "Top 10 Reasons Your Website Should Go Mobile"
http://searchengineland.com/top-10-reasons-your-website-should-go-mobile-32566

Article - "Mobile Web vs. Mobile Apps"
http://blog.dudamobile.com/mobile-web-vs-mobile-apps/

Article - "High Growth Forecasted for the Mobile Internet 2010"
http://www.cellular-news.com/story/35529.php.
Burlington VT Mobile Site Development
Web Design
Professional Website Design
Mobile Websites & QR Codes
Sites for iPhone, Andriod, Blackberry
Hosting & Support
Several Packages Available
Web Development
Shopping Carts, Forums, Blogs, Paypal, etc
Search Engine Optimization
Rank higher in the search engines.
Other Services
Consulting, Security Audits, etc